Circulating microvesicle profiles in COVID-19 patients – the role of pre-existing conditions and gender aspects
PI: Alice Assinger
Co-PI with Christa Firbas (MUW)
Funded by: Medical Scientific Fund of the Mayor of the City of Vienna (COVID024)
Funding period: 06/2020-12/2021Coronavirus disease 2019 (COVID-19) is a novel infectious disease caused by SARS-CoV-2 virus, which can cause severe acute respiratory syndrome and lead to lung failure and multi-organ failure in 2-15 % of patients.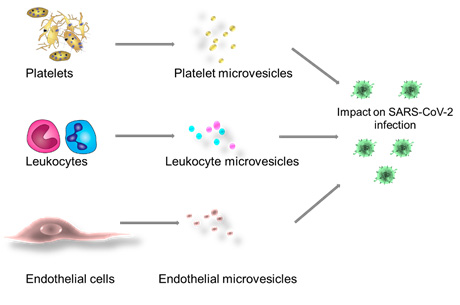 In order to optimize patient care and resource allocation during this pandemic, biomarkers are urgently needed for stratifying patients' risk and for actively monitoring illness severity.
Emerging evidence suggests that microvesicles, small molecules shed from different (blood) cells, play a pivotal role in various diseases. Microvesicles are e.g. major carriers of plasma microRNAs that can change cellular functions of target cells. Changes in microvesicle quantity and composition have been observed in diseased patients and have been postulated as surrogate marker for various diseases.
In this project we aim to investigate whether the circulating microvesicle signatures change during COVID-19 and evaluate if microvesicle alterations are associated with disease severity. As inflammatory cytokines, e.g. tumor necrosis factor α (TNF-α), interleukin 6 (IL-6), and IL-8, are elevated in other respiratory syndromes we will also monitor these cytokines. Moreover we will analyse if microvesicle signatures and inflammatory cytokines show gender specific alterations and co-incide with pre-existing conditions.
We are currently collecting plasma from hospitalized patients with SARS-CoV-2 infection as well as plasma samples from age and gender matched controls. Usage of CTAD as anticoagulant, immediate plasma preparation and our two-step centrifugation protocol ensure high quality samples. We have well equipped laboratories and all techniques established that allow for comprehensive microvesicle analysis. Materials that allow us to perform this analysis are subject of this proposal.
The results of this study are supposed to add significant knowledge to the systemic impact of SARS-CoV-2 and have the potential to provide a basis for a minimal invasive biomarker to allow for patients risk stratification and monitoring.